Let our team of professional landscapers help beautify your home or business lawn with turf mowing and seasonal maintenance. We serve the greater Springfield, Nixa and Ozark Missouri area, and you can rest assured you will receive top quality lawn care and great customer service from Above All every time! In addition, we offer snow removal and Ice Melt application for walk paths, driveways and parking lots.
Weed Control
Do you want a georgeous lawn? Then Above All lawn care service might be the perfect choice for you. Our exclusive, customized services and applications use traditional and organic elements to make your landscape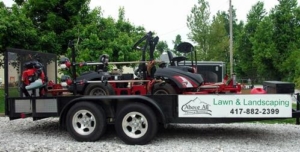 stunning, without harming the environment. We pride ourselves on the quality of our work and client care. We will work hard to exceed your expectations and have you join the long list of our many long-term, exceptionally satisfied clients
We're a family owned business that takes pride in our work and the community we serve. We love what we do, and it shows! Our commitment to quality service with a friendly smile has kept our business growing each year. We specialize in complete lawn care service that include to following:
Pruning
Lawncare Services
Weeding
Fertilizing
Pressure Washing
Mowing
Yard Maintenance
Weed Control
Hauling (yard debris / trash)
and more!