About Us
Above All Commercial Maintenance is a company determined to provide our customers with the best service and products available. We are comprised of an elite team of honest, detail-oriented people who believe that complete customer satisfaction is not an exception, it's the RULE!
Our "Cleaning For The Customer" philosophy is your assurance that every job we do is completed with your needs and satisfaction as our first priority! We understand the profound importance fine businesses place on uncompromised cleanliness for both their customers and their employees.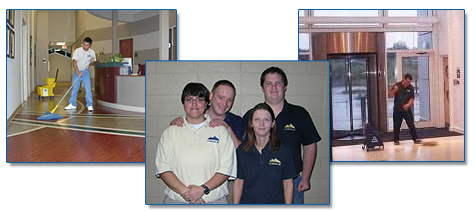 Our Values
Excellence

We believe in building a team of honest, respectful, hard-working professionals who will continually provide the highest level of excellence in all of our endeavors.

Integrity

Operating our business in an honest and upright manner will consistently reflect our dedication to our team members and our customers.

Respect

We continually strive to provide a clean, positive work environment for our team. We regard each individual as an asset to our team, and treat them as such. We encourage honorable, reverent behavior throughout our team toward each other and our customers.

Compassion

We work to meet the individual needs of our team. By providing an environment where every team member relies on the work of each other, we can each understand the importance of being compassionate, and work to build up every member of our team personally and professionally.

Communication

We understand the importance of actively listening to the needs and desires of our team and our customers. Through concise communication we openly discuss issues allowing us to quickly and effectively achieve our common goals.
We Clean. You Relax
Cleaning's no fun. In fact, it's time-consuming, dirty, and can involve a bruised knee or two. Luckily for you, we love to clean. It's basically all we do.
Main Features
What We Offer